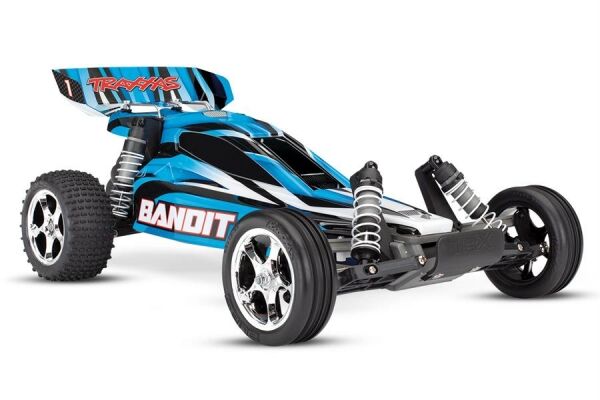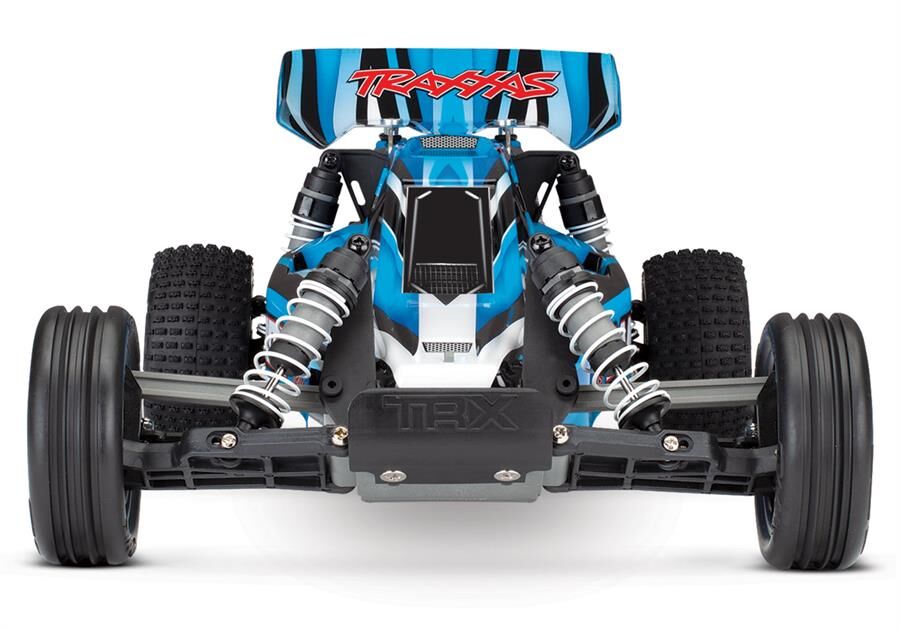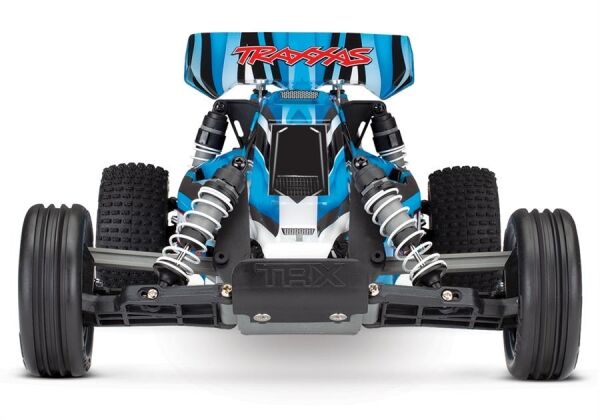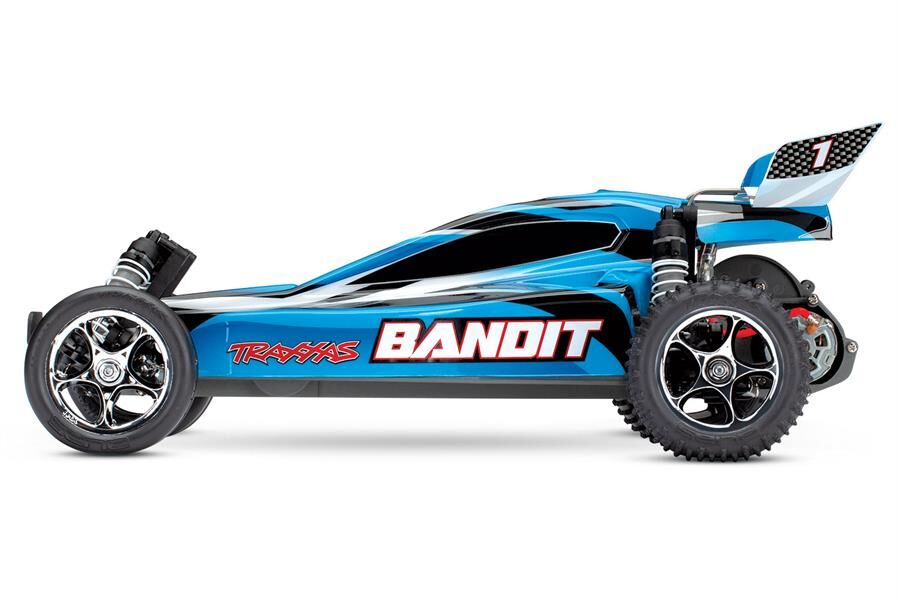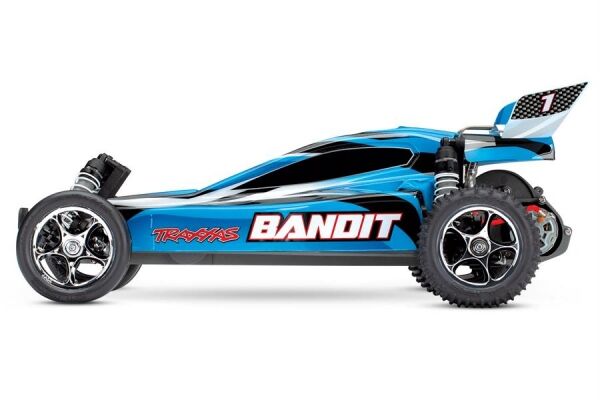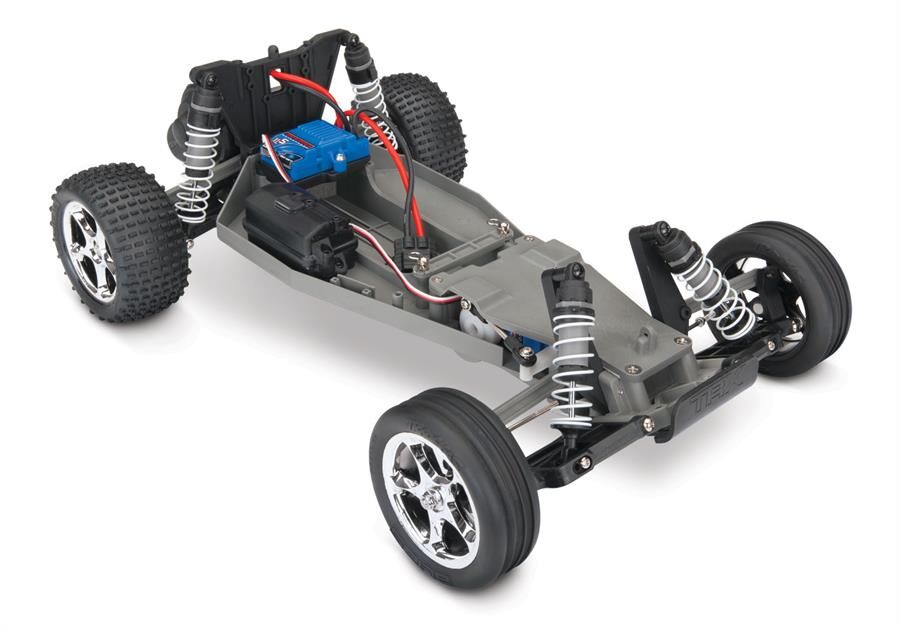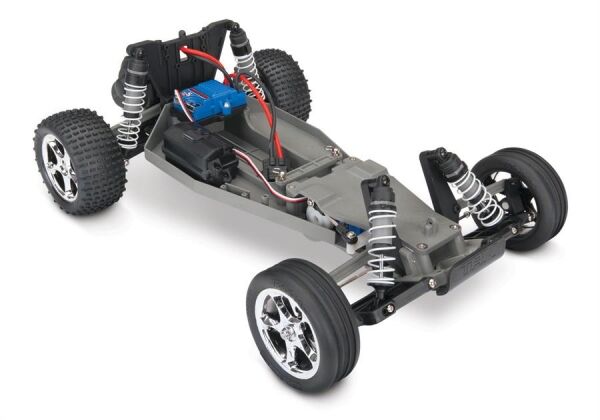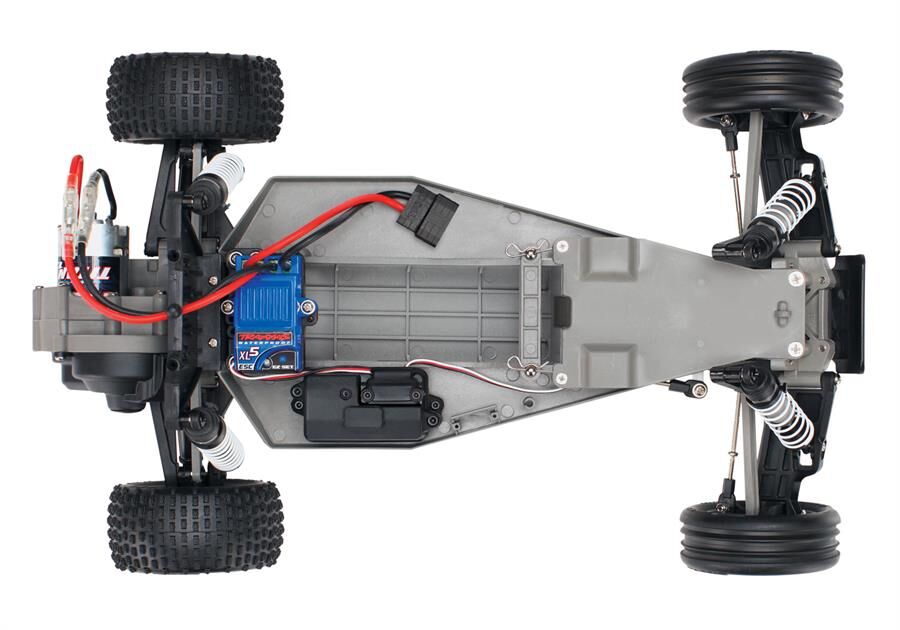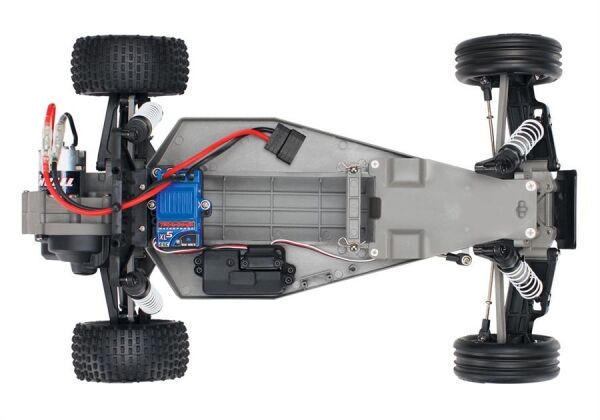 Mit dem Aufruf des Videos erklären
Sie sich einverstanden, dass Ihre Daten an YouTube
übermittelt werden und dass Sie die Datenschutzerklärung
gelesen haben.
Artikel-Nr.:

TRX-24054-1BLUEX

Info:

Artikel von sämtlichen Rabattaktionen ausgeschlossen
Deutsch: Der Traxxas Bandit ist der ultimativ extreme Sport Buggy für den Fahrer, der schnell...
mehr
Produktinformationen "Traxxas Bandit Blau Buggy RTR 1/10 2WD Brushed (excl. Battery/Charger)"
Deutsch:
Der Traxxas Bandit ist der ultimativ extreme Sport Buggy für den Fahrer, der schnell fahren will, Spaß haben will und totale Effizienz haben will. Ausgestattet mit einem leistungsstarken modifizierten 12-Turn Titan Motor und voll angepasstem elektronischem Geschwindigkeitsregler XL-5, liefert der Bandit massive Sandfontänen, Top-Sprünge und glühende Reifen bei einer Höchstgeschwindigkeit von über 55+ km/h (mit 7-Zelligem Akku und 31 Zähne Motorritzel). Die neue Revo-Spec Torque-Control Rutschkupplung wurde entwickelt um die gigantische Leistung des luftgekühlten 12T Titan Motors handzuhaben. Der Bandit ist nach dem Traxxas Tough Prinzip gebaut und fahrbereit (Ready-to-Race), damit Sie ihn nicht erst noch zusammen bauen müssen, sondern direkt Ihren Spaß haben können. Der Bandit ist erweiterbar mit einer großen Reihe von Traxxas Originalteilen und -zubehör für umfassende Leistung und personalisierte Anpassung. Versetzen Sie sich hinter das Steuer und erleben Sie die Geschwindigkeit und den Nervenkitzel eines extrem Sport Buggys!
Features:
Wasserdichte Empfängereinheit

Traxxas Hochstromanschluss

Wasserdichter Lenkservo mit hohem Drehmoment

Vorgeklebte Alias Step-Pin Reifen auf 2,2" Spiegel-Chrom Rädern

Robuste Faserverbundkonstruktion

Torque-Control Rutschkupplung

Ultra Shocks Öldruckstoßdämpfer

Kegeldifferential

Titan 12T 550 Motor

Wasserdichtem Geschwindigkeitsregler XL-5

TQ 2,4GHz Fernsteuerungssystem
Nicht enthalten:
4x AA Alkaline Batterien für die Fernsteuerung

Ladegerät

Akku
---
English:
The Traxxas Bandit redefines traditional buggy performance by creating a whole new class of Extreme Sports Buggy. Bandit offers the highest levels of speed, action, and fun that will easily make it one of your favorites for all kinds of R/C driving excitement. The lightweight Bandit chassis is loaded with an aggressive Titan 12-Turn modified motor and a high-current XL-5 Electronic Speed Control that deliver lightning-fast acceleration and incredible 35+mph* performance. Pull the trigger and Bandit rips massive rooster tails, soars over giant jumps, and lays down the power for pure performance and excitement at every turn. Bandit is infused with the latest tech including the patent-pending Revo-Spec Torque-Control slipper clutch and Alias high-performance 2.2" racing tires. The advanced dual-pin rear, and ribbed front tread designs are engineered to work with Traxxas' exclusive rubber compounds for superior off-road traction and directional control. The industry standard 2.2" mirror-chrome Tracer wheels open the door to a wide range of tire options, including the optional Traxxas Anaconda 2.2" street treads.
With Traxxas' exclusive waterproof electronics, the Bandit can blast through puddles, mow through mud and shred snow. Your R/C adventures are limited only by your imagination. Jump it. Race it. Crash it. Bandit's legendary durability leaves everything else behind. Bandit is built Traxxas Tough to keep you off the workbench and deep in the fun zone. Plus, it's upgradeable with a full line of Traxxas factory parts and accessories for custom performance and personalization.
The Bandit is 100% Ready-To-Race right out of the box with the TQ 2.4GHz 2-channel radio system, waterproof XL-5 electronic speed control and Titan 12T motor. Just take the Bandit out of the box, add your AA batteries to the transmitter, charge up a battery, and drive!
Features:
Waterproof electronics permit driving in water, mud and snow

Waterproof receiver box

High-torque Waterproof Traxxas 2056 steering servo

Powerful Titan 12T 550 modified motor with internal cooling fan

Bandit reaches speeds in excess of 35mph using the included

Optional 31-tooth pinion gear

High-performance waterproof XL-5 Electronic Speed Control

Innovative watersealed design

Three Drive Profiles Sport Mode

Forward / Brake / Reverse

Race Mode - Forward / Brake

Training Mode - 50% Forward / Brake / 50% Reverse (patent pending)

12-Turn motor limit for 550 size motors

15-Turn motor limit for 540 size motors

Integrated on/off switch

Traxxas EZ-Set one-button setup

LiPo, NiCad, and NiMH compatible with two-stage low-voltage detection

Large heat sink

High-efficiency MOSFET transistors

Efficient Magnum 272 three-gear transmission with ball bearings

Sealed gearbox protects the transmission with beefed up motor guard for extra protection

Revo-Spec Torque-Control slipper clutch system (patent pending)

External gear cover with easy slipper clutch access

Reliable planetary gear differential

Telescoping U-joint driveshafts

Fiber-composite monocoque chassis

Durable gray chassis components offer a fresh tech look

Speed control and receiver are securely fastened to chassis

Easy access battery compartment

Easy to remove and re-install wing mounting system

Fully adjustable Ultra Shocks with X-ring technology

White powder coated shock springs feature a new responsive spring rate

Durable solid camber links eliminate the need for adjustment

Captured rod ends won't pop off for superior durability

Alias 2.2" step-pin rear tires and Alias ribbed front tires offer superior off-road traction

Bandit's Alias step-pin rear tires come pre-glued on mirror-chrome five-spoke Tracer wheels

ProGraphix multi-colored painted body is available in red, blue, black, and silver

Bandit is backed by unparalleled Traxxas support and parts availability
Needed To Complete:
(4) "AA" Batteries (for transmitter)

(1) 2S LiPo/6 or 7-cell NiMH Battery Pack w/Traxxas Connector

(1) Compatible Battery Charger w/Traxxas Connector
Weiterführende Links zu "Traxxas Bandit Blau Buggy RTR 1/10 2WD Brushed (excl. Battery/Charger)"